GOAL ACHIEVED!
During the 2018-2019 ski season I started tracking the runs I was skiing at Alta Ski Area by tracing them in a yellow highlighter on the Alta trail map. After marking a few runs the idea hit me to see if I could ski all of the marked runs at Alta in one ski season. Unfortunately that goal was cut short when I had shoulder surgery on my right shoulder on February 14th, 2019.
When the 2019-2020 ski season started I once again set the goal to ski 116. This time I marked the map with a pink highlighter.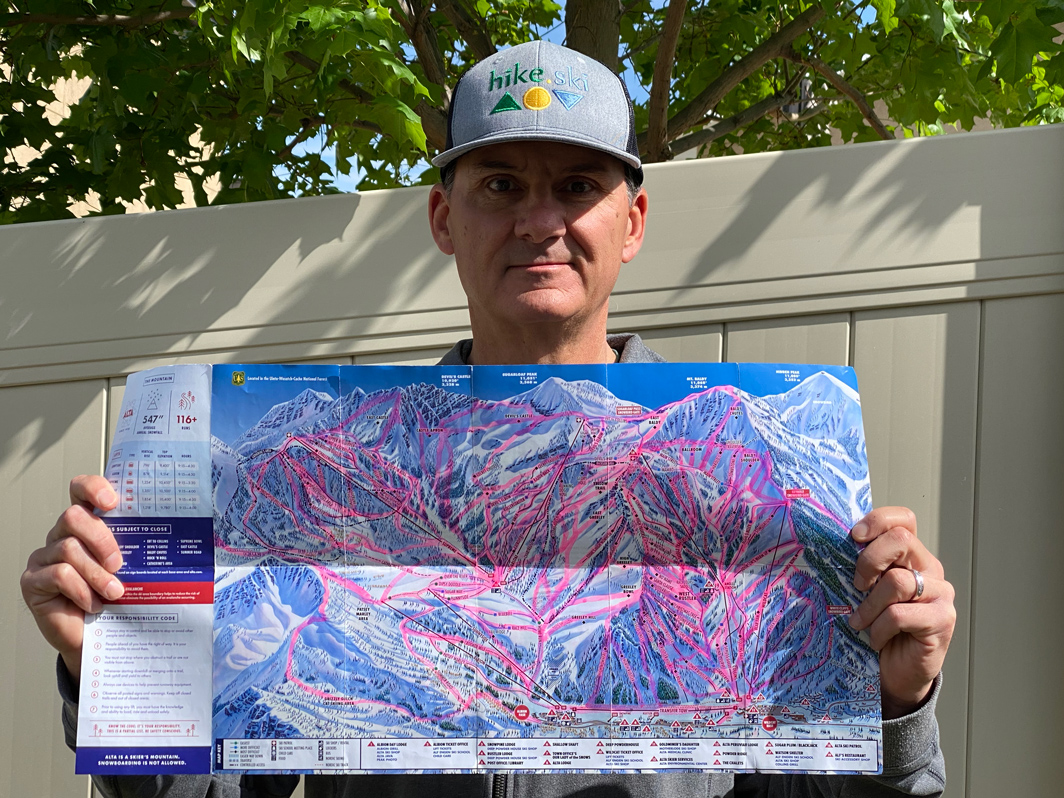 I went at it hard and fast, skiing Alta 30 times, not including backcountry skiing there during the offseason. After each ski day I carefully highlighted each run and many of them are all-timers. There were several big pow days in Devil's Castle, and another big pow day on Wildcat. Then I finally skied the elusive East Castle, which is not open very often. What a thrill and pretty steep at the top. Other very memorable runs included big pow in Castle Apron and Catherine's Area. Can't do a greatest hits without mentioning East Greeley. That's a tricky entrance. It was all great preparation for 116.
Run 116 – Main Chute, Mt. Baldy
This run has been some 30 years in the making. The last and only time I "went down" the Baldy Chutes was with my cousin Phil in 1990. Upon entering the main chute I hit a rock which stopped my ski, throwing me off balance. The chute was so steep I fell over onto a mogul and instantly dislocated my shoulder. From that point I slid, tumbled, cartwheeled, fell hundreds of feet, all the way to the bottom of the chute. During the fall I was calm. Everything was moving very slowly.  I was puzzled that I couldn't stop falling, but when on a slope that steep gravity wins.  At one point during the fall I was sliding and managed to get my feet below me. "I'll just dig my boot heels in and stop now," I thought.  When I dug my heels in I flipped. I remember watching the rocks on each side go by in slow motion.
At the bottom of the chute a ski patrolman was there and asked if I was ok. I told him I had dislocated my shoulder. He said, "no, you'd be screaming in pain if you did." Well he was wrong. I was so full of adrenaline I couldn't feel any pain. From the bottom of the chute I skied down with my poles in my right hand all the way to the parking lot. I would end up in the Snowbird Medical Clinic where I did eventually go into shock before they put my shoulder back in the socket.
A week or later my dad was up there talking to someone at Alta in the Watson Shelter and mentioned my crash. I'd become some kind of legend up there for falling all the way down Main Chute, surviving, and just skiing away. Since then I've re-dislocated my shoulder two additional times, one last summer hiking at…. Alta.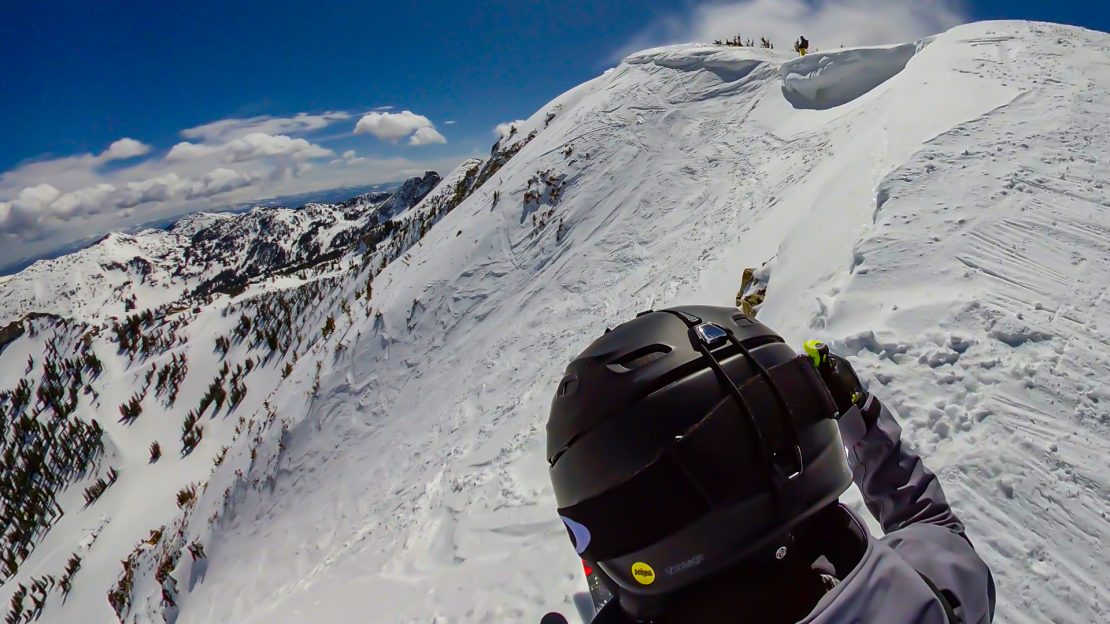 Each season as I ski Alta I've been eyeballing Main Chute hoping to make up for that bad day. Could I do it? Would I crash again? Why even try it? Often times I would ski by and take a picture from below from Ballroom. I always made it a point to say hello and thank the chute for spitting me out alive.
This season at Alta I've been skiing my butt off. I'm skiing the best I ever have. I once again set a goal to ski all 116 of the marked runs on the Alta trail map this season and found some incredible, scenic, and difficult terrain I'd never skied before. I was killing it; sure to get in all 116 with several weeks to spare. Or so I thought.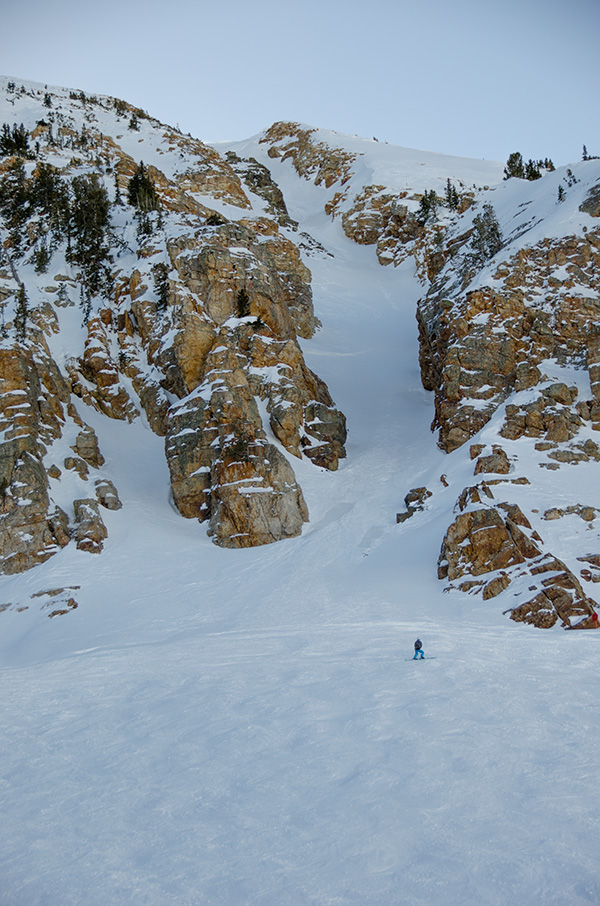 Alta shut down for the season early due to the Covid-19. At that point I had skied 115 of the 116 runs. The final run was the Baldy Chutes. It looked like my goal would not be reached this season, which was a punch in the gut.
I'd been working out for over a year, eating better, and doing backcountry skiing since last spring. I lost some 45 pounds. I've built up some very good cardio, strength, and endurance. So this past Sunday I gave it a shot; I skinned all the way from the lower parking lot to the top of Mt. Baldy, 11,068 feet.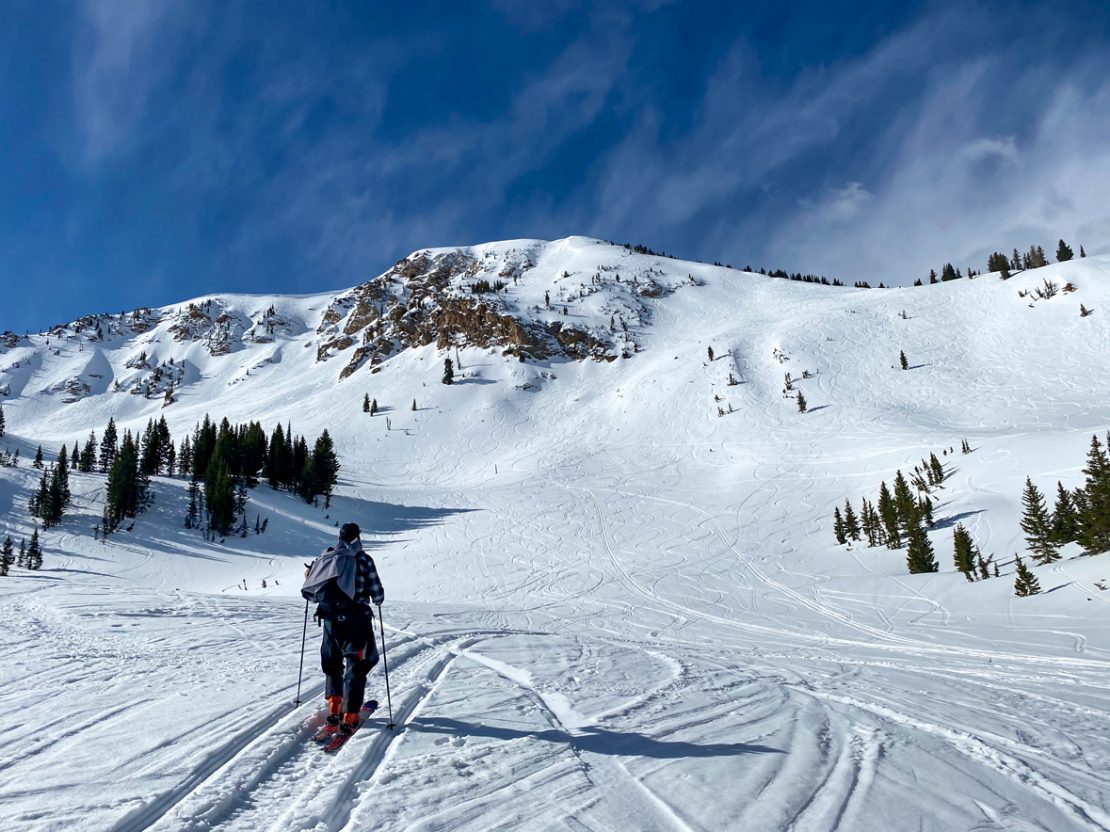 It was almost three miles from the parking lot to the top, about 2,600 vertical feet. At the top of Mineral Basin near the top of the Sugarloaf lift, I had to take my skis off and "boot pack" up the side of Baldy with my skis on my backpack. The snow kept giving way straight down so it was hard treading. I almost turned around because it was too difficult to boot pack. But I found some better snow and was able to get better traction. Once up a small ridge it flattened out and I could put my skis, with skins on, back on. From there I was to the top in probably 20 minutes.
That's where the video below BEGINS.
After all the vertical, sweating, leg fatigue, skinning and hiking up, now I had to ski down with rubber legs. At first glance I was stunned at how steep Main Chute was. Look closely when I meet the other skier at the top of the chute in the video. You can see straight down. I've skied some shorter patches of terrain that steep, but this is a sustained steepness with rocks on both sides. It is truly stunning and terrifying, especially for someone who has had 30 years to think about falling down it. I skied conservatively, and stopped often to catch my breath and composure. There are no style points here. Just get down in one piece.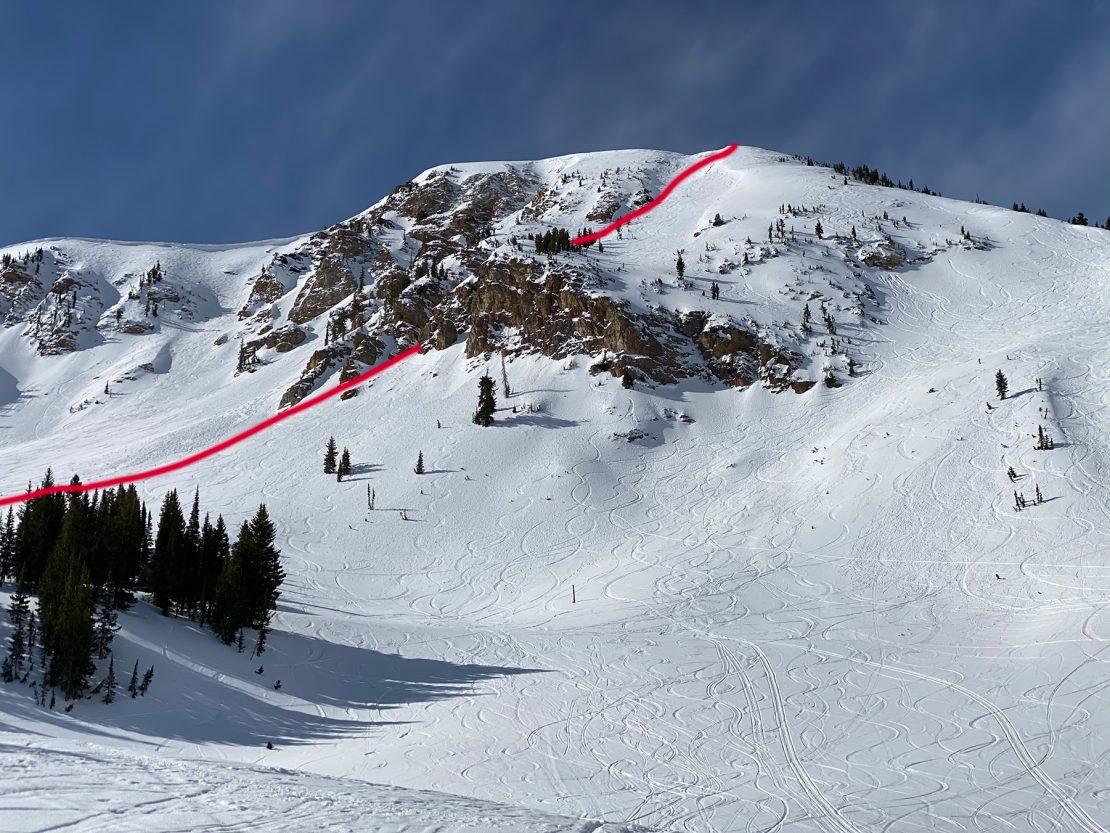 2 for 1
I got down in one piece and completed the 116th run on what would have been Alta's final day of operation for the 2020 season, and also exercised a ski demon that had been weighing on me for three decades. I have a spring in my step now. I'll have until next ski season to ponder….
What next?