Though I've posted quite a bit about backcountry skiing, I'm an off-piste resort skier mostly at this point.  I grew up skiing Alta Ski Area here in northern Utah.  I even took lessons from, and skied many times with, Alf Engen.  That explains my incredibly beautiful form (yeah, right).
This winter (2019-2020) I'm in much better physical shape and have been skiing more than any year in my entire life. It has been fantastic.  I made a goal this ski season to ski every marked run Alta. There are 116 of them, 55% of them black diamond rating for advanced skiers.
After knocking off about 5 more runs yesterday, I reached the century mark!  I've skied 100 of the 116 as of Feb 10, 2020.  Below is a resort map with pink highlights for each run I've done this season.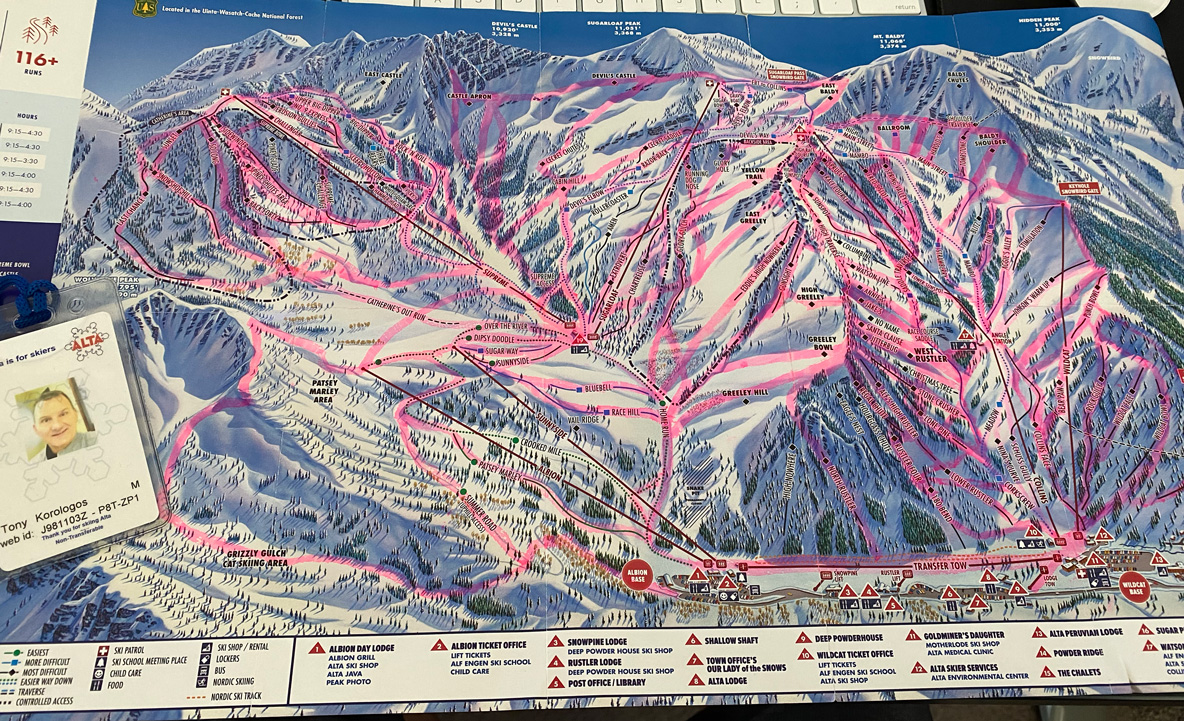 When I get home after each ski day, I sit down at my desk with my pink highlighter and mark the runs I did that day.
I've got about 16 more to go, but some of these may be difficult to cross off the list.  A couple of areas are not open that often, like the Baldy Chutes and East Castle. I've not seen East Castle open yet this season. That one will take skinning, side stepping, or boot packing to get to the top.
I'll be back at it this weekend, tying to bust out a few more of the marked runs.  I've captured video for many of the runs and will post here and on my YouTube channel.
Stay tuned and see you on the slopes.